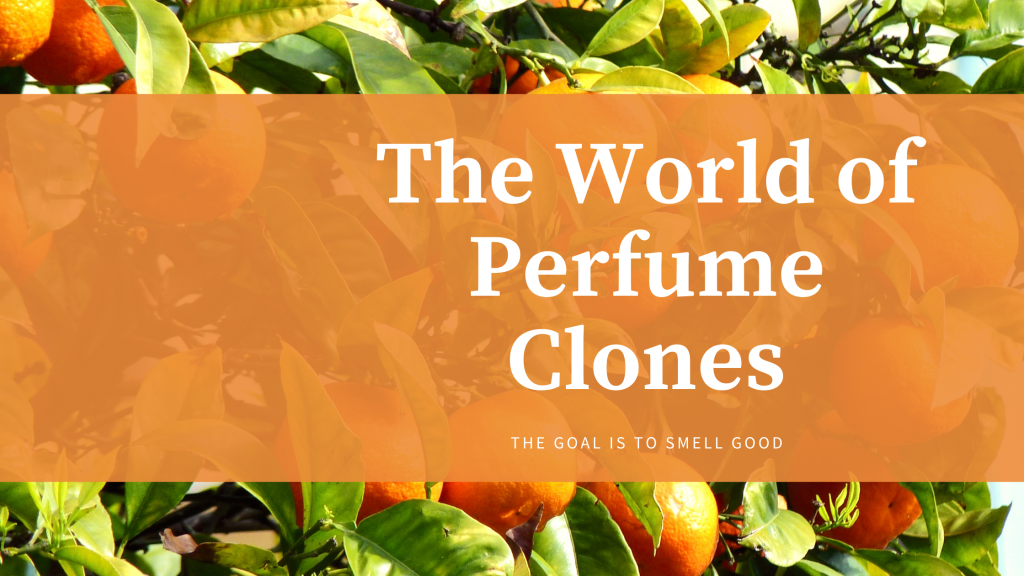 The World of Designer Perfume Clones
Cloning is generating an identical copy of an entity or a product. In the case of an entity/organism this is usually done by nature while for products such as perfumes it is man-made.
Perfume Clones are relatively cheaper options which have fragrances that are usually similar, slightly similar or the exact same to the high-end original brand. Clones have a different visual appearance from the original, they come in a different bottle, different package and branding from the original. Some clones are really excellent, quite popular, long lasting and potent perfumes on their own with good performance and longevity, without the consumer knowing that they are a copy of an existing perfume. Quite a number of them are so good that if you perceive them you cannot tell a difference between the clone and the original. Most popular manufacturers use perfume clones to evaluate how the market would adopt a particular fragrance, correct or try out new scents and in some cases to create a slight distinction between the original perfume and a cloned scent to drive revenue.
Even though original perfumes have the brand name and recognition, they are also extremely expensive and seem to be reserved for the elite few who can afford it. The aim of https://perfumesforlessng.com/ is to sell similar perfumes inspired by the original fragrance for less in order to make it affordable for everyone who needs to wear the scent and also enable them get a fragrance close enough to, if not almost, as their dream perfume.
These are five crazy things you do not already know about perfume clones
They are legal:

Yes, they are. The ingredients used to produce perfumes are gotten from nature, for example take the

Olympéa Paco Rabanne

created by Loc Dong, Anne Flipo and Dominique Ropion. whose top notes are Water Jasmine, Green Mandarin and Ginger flower; middle notes are Salt and Vanilla; base notes are Ambergris, Cashmere Wood and Sandalwood -Sandalwood here is a dry deciduous forest species native to China, India, Indonesia, Australia, and the Philippines – All the ingredients found in these perfumes cannot be patented especially because they are not created by the perfume brand companies who use them, but are naturally occurring and are accessible to anyone who dares search for them. The illegal part of cloning a perfume is using the exact bottle, packaging and brand name as the original brand, these are copyright identities of the company which could be patented.
It can be argued that the issue of cloning is more of an ethical one because most individuals would raise an eyebrow to copying what someone else has spent a lot of time, research, money and resources to put together. However, it is worth noting that even though this might be unethical, no two fragrances can smell exactly the same except they are created by the same fine hands with the exact composition of ingredients. A vanilla or amber note in one perfume bottle can be luxurious or better blended than in another one. Most cloned perfumes are usually labeled "inspired by fragrance", this is used by manufacturers of cloned perfumes to give credit to the original creator.
They are not fake:

Cloned perfumes are as real as it gets, so real it could be hard to identify the perfume as a clone. Their notes could be altered to make them better or to create an entirely new fragrance which is similar to the original scent. Most perfume brands work on clones in order to improve the quality of their fragrance especially if they have some notes to try out or a new scent to sample with little or no difference from a previously released product, for instance the Zara brand; usually these new scents turn out to be unique, surpass the expectations of the wearer and become in itself a signature fragrance for the brand.
Fake perfume manufacturers usually tend to copy the name, the bottle and the packaging of the original perfume. Fake perfumes could be identified through their flawed wrapping and seams, the paper quality used in packaging the product, the labels and inscriptions, bottle and cap design/alignment, and color of the perfume which are usually darker than the original perfumes.
Cloned perfumes in simple terms are different branded perfumes whose only similarity to the original perfume is the scent. 
It is always better to buy a cloned perfume inspired by the fragrance of the original creator than a fake perfume because amongst other reasons a fake perfume is harmful to the health and its high composition of chemicals could lead to devastating allergies for the wearer.
They are cheap

: Perfume clones are cheaper than the original brand. The target market for perfume clones are the middle class individuals who would not be able to afford to wear a N165,000

Francis Kurkdjian Baccarat Rouge 540 Extrait 70ml

 perfume but can afford an N18,000

Afnan Mirsaal with Love 90ml

perfume which is a clone of the previous. 
The original fragrance is expensive because of the added cost of marketing, researching, developing, and extensive use of resources in creating the fragrance so it can be successful. In many cases, the "brand name" will often cause a price increase because they are a popular high-end brand and in more times than often due to the target niche they have chosen for their brand.
In addition, the "original" often uses higher end/quality ingredients which further increases the costs.
The primary goal of most clone fragrance developers is to get as close enough to the "real deal" as possible, but for less money through various ways. In the case of Creed Aventus, people can make a very similar fragrance for N18,500 a bottle ~see Armaf Club De Nuit Intense Men~.
Cloned perfumes do not incur these extra costs, hence the reason they can be purchased for less than half the price of the original.
This attribute increases the demand for cloned perfumes in most countries whose larger population fall into the middle class category.
They offer a variety of choice:

Nearly all original fragrance has a multitude of clones with similar fragrance which one can choose from. With the variety of choice one can always find a fragrance within their budget and with distinct scents. This array of perfume clones are hosted on

https://perfumesforlessng.com/

at affordable prices and customers can scan the website to purchase anyone of their choice. Examples of some famous and expensive fragrance with their alternatives are:
Most clones or "inspired by fragrance" are made in the UAE:

UAE is often referred to as the home of perfumes. As unbelievable as this may sound to anyone who has never visited the city, at almost every nook and corner there is a perfume shop which sells clones of all niche fragrances in Dubai. In fact, it is so easy to produce these perfume clones because the manufacturers use gas chromatography-mass spectrometry which is an analytical method that combines the features of 

gas-chromatography

 and 

mass spectrometry

 to identify different substances within a test sample.
Further applications of GC-MS include drug detection,  fire investigation, environmental analysis, explosives investigation, and identification of unknown substances. In this instance, the original scent is placed on the instrument which reads its components and gives a graph table with a composition of what notes and oils have been used. This method ensures that the cloned perfume produced is authentic and free from harmful substances even though there could be a 5% dissimilarity between the clone and the original.
The use of this instrument could bother on the line of legality, but it is important to bear in mind that not all synthetic aroma compounds are created equal. Most of the ingredients used in the production of the fragrance could be substituted to achieve the same result as these natural ingredients are not easily found and some are near extinction due to the high demand for them.
Even with the fear of purchasing fake perfumes in Dubai, Dubai is still one of the largest producers of cloned perfumes which are manufactured under scrutiny with quality ingredients and whose output is maximized by advanced technology. 
Perfume clones have become the real deal, they are a must have and a great addition to any wardrobe. Your fragrance can help you leave a lasting impression when you need it the most, it is often said that your perfume might be invisible but it can be the most dominant accessory you wear.  They are the first thing people sense before they turn to see who entered an office or building.
If you are on a budget and need an original perfume clone with long lasting fragrance, you should visit https://perfumesforlessng.com/. Whatever the occasion maybe, we have hand-picked great scents just for you.
Related Posts
"Smelling good will get you anywhere", they say. If I got a dollar for…
Read More